Propolis is a substance produced by honey bees from tree sap they collect, their salivary components (e.g. enzyme, parotin), and bee wax. It is said that they apply propolis, which acts like a natural anti-biotic, inside their hive to prevent invasion of bacteria and viruses.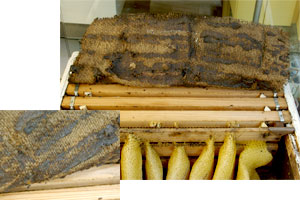 The tar-like substance is propolis. This keeps the inside of the hive in aseptic condition.
Propolis includes 20 to 30 kinds of flavonoid and various enzymes (e.g. amylase, lipase, cathepsin), and helps to improve immune system of the cells, to prevent active oxygen to increase, and to make strong body system against viruses and bacteria.
Store in room temperature.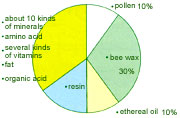 ---